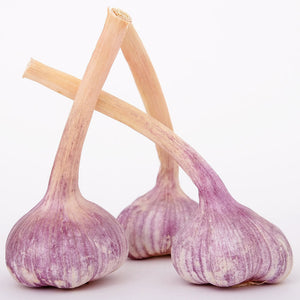 Considered our hottest and tastiest garlic, the Yugoslavian Red (Yugo) is our personal favorite. This Porcelain variety garlic has a pungent taste and initial heat when eaten raw. Perfect for dishes where garlic is the highlight of the recipe. It usually has beautiful red-purple stripe clove wrappers. There are 4-8 large cloves per bulb. Ready for pick-up in early August.

Storability: 4 – 6 months
$3.50/bulb
Minimum Order 25 bulbs. For smaller quantities please visit our farmers market locations starting mid-august.